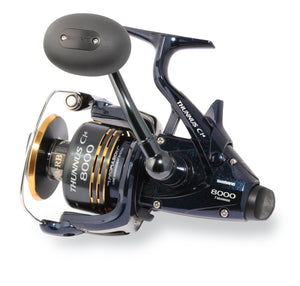 Shimano Thunnus Ci4
DESCRIPTION
Seemingly against the laws of nature, lightweight with the power to stop big fish are not words commonly found together in a sentence. Thunnus CI4 takes a page from Shimano's bicycle division and uses carbon materials in high-impact situations in response to anglers wanting a reel with bait-running functionality but in a lightweight body. Thunnus CI4 is up to 7 ounces lighter than its predecessor without sacrificing any power and incorporates new drag systems for the main drag as well as the baitrunner drag. Thunnus CI4 is the most efficient live bait spinning reel on the market with unmatched adjustability for fishing live bait in any condition while still having the smooth stopping power.
FEATURES
CI4+ Spinning
CI4 is a Shimano original material reinforced with carbon fiber that is lighter and has a higher strength than conventional resin material. CI4+ is an advanced version of the original CI4 material and is 2.5x more rigid than its predecessor. While improving lightness and rigidity, reel bodies and rotors built with CI4+ are further reduced in size and weight.
HAGANE Gear
With amazing strength and durability, the HAGANE Gear is at the very heart of most Shimano reels. Shimano, through the application of state-of-the-art technologies, gives anglers the long-lasting smoothness and pleasure that is felt when anglers first use a reel, over and over again. No cutting work is applied to the teeth of the drive gear during fabrication, instead the entire surface is calculated in minute detail by special 3D-design and then formed by Shimano's cold-forging technology. The result is assured resilience. HAGANE Gear is the fruit of Shimano's inexhaustible pursuit for durability — the strength and power of forged metal continues to represent the fundamental concept of Shimano reels.
One-Piece Bail
One-Piece Bail allows the line to travel unimpeded to the line roller. The seamless design reduces friction and decreases the chance of tangles or the line catching on the bail arm.
Propulsion
The spool has a special spool ring shape. This creates a rectifying effect on the line and realizes both suppression of line trouble and long casting performance.
S A-RB Spinning
S A-RB bearings are put through the same process as Shimano's A-RB bearings but feature shields on both sides of the bearings. These shields reduce the possibility of salt or sand inhibiting rotation of the bearing.
SPECIFICATIONS
#TU4000CI4
 Model: TU4000CI4
Bearings

7 (6BB; 1RB)

Gear Ratio
4.8:1
Line Per Handle Turn
30"
Weight 
12.7 oz

Line Capacity

(Lb Test/Yards)

Mono:  8/240, 10/200, 12/160

Power Pro: 15/270, 20/190, 40/145

Max Drag
15 Lbs
Retrieve
Reversible
#TU6000CI4
 Model: TU6000CI4
Bearings
7 (6BB; 1RB)
Gear Ratio
4.8:1
Line Per Handle Turn
35"
Weight 
18.0 oz

Line Capacity

(Lb Test/Yards)

Mono: 12/265, 16/170, 20/120

Power Pro: 30/245, 50/210, 65/130

Max Drag
20 Lbs
Retrieve
Reversible
#TU8000CI4
 Model: TU8000CI4
Bearings

7 (6BB; 1RB)

Gear Ratio
4.8:1
Line Per Handle Turn
36"
Weight 
19.4 oz

Line Capacity

(Lb Test/Yards)

Mono: 14/295, 17/250, 20/195

Power Pro: 40/295, 50/290, 65/180

Max Drag
20 Lbs
Retrieve
Reversible
#TU12000CI4
Model: TU12000CI4
Bearings

7 (6BB; 1RB)

Gear Ratio
4.4:1
Line Per Handle Turn
37"
Weight 
27.7 oz

Line Capacity

(Lb Test/Yards)

Mono: 12/550, 16/350, 20/265

Power Pro: 50/505, 65/310, 80/230

Max Drag
25 Lbs
Retrieve
Reversible
---
We Also Recommend
---