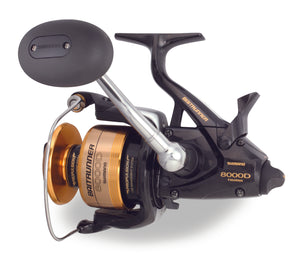 Shimano Baitrunner D
DESCRIPTION
The Baitrunner D gives anglers the confidence of a legendary drivetrain and auto-return baitrunner feature in addition to enhanced features for enhanced castability, better line lay and less backlash. The Baitrunner D also features larger, more comfortable grips, a higher max drag, and a wider range of baitrunner settings than its predecessors.
FEATURES
One-Piece Bail
One-Piece Bail allows the line to travel unimpeded to the line roller. The seamless design reduces friction and decreases the chance of tangles or the line catching on the bail arm.
Propulsion
The spool has a special spool ring shape. This creates a rectifying effect on the line and realizes both suppression of line trouble and long casting performance.
S A-RB Spinning
S A-RB bearings are put through the same process as Shimano's A-RB bearings but feature shields on both sides of the bearings. These shields reduce the possibility of salt or sand inhibiting rotation of the bearing.
SPECIFICATIONS
#BTR4000D
 Model: BTR4000D
Bearings

5 (4BB; 1RB)

Gear Ratio
4.8:1
Line Per Handle Turn
28"
Weight 
13.5 oz

Line Capacity

(Lb Test/Yards)

Mono:  8/240, 10/200, 12/160

Power Pro: 15/270, 20/190, 40/145

Max Drag
15 Lbs
Retrieve
Reversible
#BTR6000D
 Model: BTR6000D
Bearings
5 (4BB; 1RB)
Gear Ratio
4.8:1
Line Per Handle Turn
35"
Weight 
20.1 oz

Line Capacity

(Lb Test/Yards)

Mono: 10/300, 12/265, 16/170

Power Pro: 30/245, 50/210, 65/130

Max Drag
20 Lbs
Retrieve
Reversible
#BTR8000D
 Model: BTR8000D
Bearings

5 (4BB; 1RB)

Gear Ratio
4.8:1
Line Per Handle Turn
36"
Weight 
21.7 oz

Line Capacity

(Lb Test/Yards)

Mono: 14/295, 17/250, 20/195

Power Pro: 40/295, 50/290, 65/180

Max Drag
20 Lbs
Retrieve
Reversible
#BTR12000D
Model: BTR12000D
Bearings

5 (4BB; 1RB)

Gear Ratio
4.4:1
Line Per Handle Turn
37"
Weight 
30.0 oz

Line Capacity

(Lb Test/Yards)

Mono: 12/550, 16/350, 20/265

Power Pro: 50/505, 65/310, 80/230

Max Drag
25 Lbs
Retrieve
Reversible
---
We Also Recommend
---