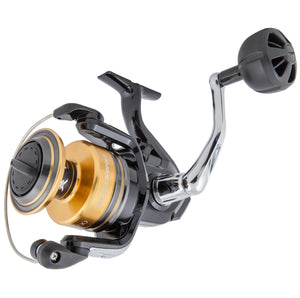 Shimano Socorro SW
DESCRIPTION
Shimano Socorro SW spinning reels have the true durability to tackle nearly anything in the salt. Equipped with long-lasting HAGANE Gear, the Socorro reels give anglers the strength and confidence for both inshore and offshore action. X-Ship technology offers anglers the ultimate in smoothness and power to fish with confidence and know the Socorro SW reels are ready.
FEATURES
HAGANE
HAGANE is a Shimano reel design concept created to withstand continual use and extreme abuse. HAGANE is an innovation with built-in toughness and durability that works alongside Shimano's precision engineering. HAGANE is for all anglers.
HAGANE Gear
With amazing strength and durability, the HAGANE Gear is at the very heart of most Shimano reels. Shimano, through the application of state-of-the-art technologies, gives anglers the long-lasting smoothness and pleasure that is felt when anglers first use a reel, over and over again. No cutting work is applied to the teeth of the drive gear during fabrication, instead the entire surface is calculated in minute detail by special 3D-design and then formed by Shimano's cold-forging technology. The result is assured resilience. HAGANE Gear is the fruit of Shimano's inexhaustible pursuit for durability — the strength and power of forged metal continues to represent the fundamental concept of Shimano reels.
X-Ship Spinning
X-Ship provides improved gear durability. By supporting the pinion gear on both ends with bearings, the pinion gear maintains precise alignment with the drive gear. This allows the gears to stay in the same position under the heaviest loads. The added benefit of X-Ship technology is that friction between the spool shaft and gear are eliminated. This further benefits anglers with enhanced casting performance and casting distance of lighter lures.
Propulsion
The spool has a special spool ring shape. This creates a rectifying effect on the line and realizes both suppression of line trouble and long casting performance.
Cross Carbon Drag Spinning
The Cross Carbon Drag material provides a wider range of drag settings compared to traditional drag materials. The Cross Carbon Drag provides the smoothest Shimano drag performance ever while providing anglers with increased durability.
S A-RB Spinning
S A-RB bearings are put through the same process as Shimano's A-RB bearings but feature shields on both sides of the bearings. These shields reduce the possibility of salt or sand inhibiting rotation of the bearing.
SPECIFICATIONS
#SOC5000SW
Model: SOC5000SW
Bearings
5 (4BB; 1RB)
Gear Ratio
4.6:1
Line Per Handle Turn
31"
Weight 
15.5 oz

Line Capacity

(Lb Test/Yards)

Mono: 10/240, 12/195, 14/165

Power Pro: 20/245, 30/225, 40/175

Max Drag
22 Lbs
Retrieve
Reversible
#SOC6000SW
Model: SOC6000SW
Bearings
5 (4BB; 1RB)
Gear Ratio
4.6:1
Line Per Handle Turn
33"
Weight 
15.7 oz

Line Capacity

(Lb Test/Yards)

Mono: 12/265, 16/170, 20/120

Power Pro: 30/290, 50/195, 65/140

Max Drag
22 Lbs
Retrieve
Reversible
#SOC8000SW
 Model: SOC8000SW
Bearings

5 (4BB; 1RB)

Gear Ratio
4.9:1
Line Per Handle Turn
37"
Weight 
22.6 oz

Line Capacity

(Lb Test/Yards)

Mono: 12/345, 16/250, 20/185

Power Pro: 40/340, 50/265, 65/215

Max Drag
26 Lbs
Retrieve
Reversible
#SOC10000SW
 Model: SOC10000SW
Bearings

5 (4BB; 1RB)

Gear Ratio
4.9:1
Line Per Handle Turn
40"
Weight 
23.5 oz

Line Capacity

(Lb Test/Yards)

Mono: 12/500, 16/320, 20/220

Power Pro: 50/360, 65/290, 80/215

Max Drag
26 Lbs
Retrieve
Reversible
---
We Also Recommend
---