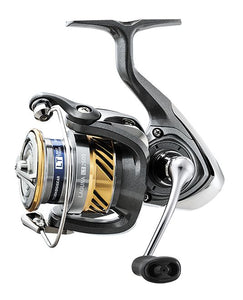 Daiwa Laguna LT
DESCRIPTION

The Laguna LT is the latest manifestation in Daiwa's LT storyline. The redesigned reel embraces the LT Concept of light and tough. The True Carbon Frame reduces weight and size, yet is as rigid as conventional materials. 
The Air Rotor System improves balance and rotation and reduces rotor weight by 15%. Reel performance is silky smooth with 3 ball bearings and 1 roller bearing. Few reels in this price range have 3 ball bearings. The Machined Aluminum handle is swept back and the knob is oversized and ergonomically designed.
Available in 1000 to 3000 series sizes the Daiwa Laguna LT is a versatile line of workhorse reels, designed to put anglers of all skill levels in the high tech world of spinning reels. If you want to experienced the best of Daiwa engineering at a smart price, look for the new, reengineered Laguna LT spinning reel.
FEATURES
SPECIFICATIONS
#LAGUNALT2500
Model: LAGUNALT2500
Bearings

4 (3BB; 1RB)

Gear Ratio
5.3:1
Line Per Handle Turn
29.6"
Weight 
9.0 oz

Line Capacity

(Lb Test/Yards)

Mono: 6/160, 8/110

J-Braid: 8/200, 10/170

Max Drag
22 Lbs
Retrieve
Reversible
#LAGUNALT3000C
Model: LAGUNALT3000-C
Bearings

4 (3BB; 1RB)

Gear Ratio
5.3:1
Line Per Handle Turn
31.6"
Weight 
9.2 oz

Line Capacity

(Lb Test/Yards)

Mono: 10/130, 12/110

J-Braid: 8/220, 10/185

Max Drag
22 Lbs
Retrieve
Reversible
#LAGUNALT4000C
Model: LAGUNALT4000-C
Bearings

4 (3BB; 1RB)

Gear Ratio
5.2:1
Line Per Handle Turn
32.5"
Weight 
10.2 oz

Line Capacity

(Lb Test/Yards)

Mono: 12/160, 14/140

J-Braid: 10/220, 15/185

Max Drag
26.4 Lbs
Retrieve
Reversible
#LAGUNALT5000C
Model: LAGUNALT5000-C
Bearings

4 (3BB; 1RB)

Gear Ratio
5.2:1
Line Per Handle Turn
34.5"
Weight 
10.2 oz

Line Capacity

(Lb Test/Yards)

Mono: 14/250, 20/160

J-Braid: 15/320, 20/280

Max Drag
26.4 Lbs
Retrieve
Reversible
---
We Also Recommend
---