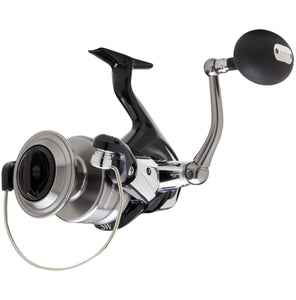 Shimano Spheros SW A
DESCRIPTION
The jack of all trades in the saltwater realm, Shimano redesigned the Spheros SW series of saltwater spinning reels to conquer both offshore and inshore waters. Now featuring Shimano's flagship Infinity Drive technology to improve pinion gear support and enhance the overall drive gear design, Spheros SW provides anglers with increased winding power under load when cranking against hard-fighting game fish. Wielding both X-Protect and X-Shield for improved water resistance for increased durability in the harsh saltwater environment, Spheros SW fortifies an IPX8 water-resistant-rated body. Now available in seven different sizes, the new 14000 and 18000 sizes span the gap between 10000 and 20000 models for a broader range of applications within the Spheros SW series of reels. From jigging for groupers or amberjacks, to tossing lures at cobia and football-size bluefin tuna, or free-lining live bait to snook or striped bass, the Spheros SW series will provide dependable performance for anglers targeting prized game fish.
FEATURES
HAGANE
HAGANE is a Shimano reel design concept created to withstand continual use and extreme abuse. HAGANE is an innovation with built-in toughness and durability that works alongside Shimano's precision engineering. HAGANE is for all anglers.
HAGANE Gear
With amazing strength and durability, the HAGANE Gear is at the very heart of most Shimano reels. Shimano, through the application of state-of-the-art technologies, gives anglers the long-lasting smoothness and pleasure that is felt when anglers first use a reel, over and over again. No cutting work is applied to the teeth of the drive gear during fabrication, instead the entire surface is calculated in minute detail by special 3D-design and then formed by Shimano's cold-forging technology. The result is assured resilience. HAGANE Gear is the fruit of Shimano's inexhaustible pursuit for durability — the strength and power of forged metal continues to represent the fundamental concept of Shimano reels.
X-Ship Spinning
X-Ship provides improved gear durability. By supporting the pinion gear on both ends with bearings, the pinion gear maintains precise alignment with the drive gear. This allows the gears to stay in the same position under the heaviest loads. The added benefit of X-Ship technology is that friction between the spool shaft and gear are eliminated. This further benefits anglers with enhanced casting performance and casting distance of lighter lures.
HAGANE Body Spinning
The HAGANE Body is a metal reel body with high rigidity. The body rigidity and impact resistance virtually eliminates body flexing on the reel while fighting fish. The result transforms the angler's actions directly into cranking power, increasing efficiency through strength.
Infinity Drive | Spinning Reels
The Infinity Drive structure is an advanced structure that creates exceptionally light winding. The main shaft, which had previously been supported by the pinion gear, is now supported by a new and unique low-friction bushing that significantly decreases frictional resistance. In addition, the main shaft has undergone a proprietary surface treatment and special processing to drastically reduce rotational torque, constructing a reel that can actively wind even under heavy loads.
X-Shield
By providing dependable sealing structures and gaskets at 12 critical locations throughout the reel body, Shimano is able to create a water-resistant structure that is highly reliable and durable while ensuring that it can hold up when used in extreme saltwater conditions.
X PROTECT
For medium and small general-purpose spinning reels, which require lighter spinning, we focused on a non-contact structure that does not compromise the lightness of the spinning. In addition to conventional water-repellent treatment, a labyrinth structure that suppresses water penetration is combined to achieve high water-resistant performance despite the non-contact nature of the structure. It is used in the stopper bearing section and line roller section. Large reels for saltwater, a contact-type water-resistant structure is used for large spinning reels that require higher water-resistant performance. By physically cutting off the entry path of seawater with a low-sliding seal member, high water-resistant performance is achieved while suppressing rotational resistance. The stopper bearing and line roller parts are adopted, and the stopper bearing part in particular achieves a water-resistant rating equivalent to IPX8.
Propulsion
The spool has a special spool ring shape. This creates a rectifying effect on the line and realizes both suppression of line trouble and long casting performance
Cross Carbon Drag Spinning
The Cross Carbon Drag material provides a wider range of drag settings compared to traditional drag materials. The Cross Carbon Drag provides the smoothest Shimano drag performance ever while providing anglers with increased durability.
S A-RB Spinning
S A-RB bearings are put through the same process as Shimano's A-RB bearings but feature shields on both sides of the bearings. These shields reduce the possibility of salt or sand inhibiting rotation of the bearing.
Precision cold forged HAGANE GEAR
The change from zinc die-cast gears to precision cold-forged HAGANE GEAR has increased strength. The light weight of the gears themselves also contributes to a lighter reel. Ideal for harsh SW scenes.
Carbon Cross Washer
This reliable washer is made of a material with excellent abrasion and heat resistance, and is installed on SHIMANO's large spinning reels. It can firmly respond to unexpectedly large fish.
Threaded handle
As with higher-end models, a screw-in handle fixing structure is employed. Direct winding is possible without any slack.
SPECIFICATIONS
#SPSW5000XGA
Model: SPSW5000XGA
Bearings
5 (4BB; 1RB)
Gear Ratio
6.2:1
Line Per Handle Turn
41"
Weight 
15.7 oz

Line Capacity

(Lb Test/Yards)

Mono: 10/240, 12/195, 14/165

Power Pro: 20/245, 30/225, 40/175

Max Drag
22 Lbs
Retrieve
Reversible
#SPSW6000HGA
Model: SPSW6000HGA
Bearings
5 (4BB; 1RB)
Gear Ratio
5.7:1
Line Per Handle Turn
41"
Weight 
15.9 oz

Line Capacity

(Lb Test/Yards)

Mono: 12/265, 16/170, 20/120

Power Pro: 30/295, 50/195, 65/140

Max Drag
22 Lbs
Retrieve
Reversible
#SRG8000SWAHG
 Model: SPSW8000HGA
Bearings

5 (4BB; 1RB)

Gear Ratio
5.6:1
Line Per Handle Turn
42"
Weight 
23.5 oz

Line Capacity

(Lb Test/Yards)

Mono: 14/300, 16/250, 20/185

Power Pro: 40/340, 50/265, 65/215

Max Drag
29 Lbs
Retrieve
Reversible
---
We Also Recommend
---