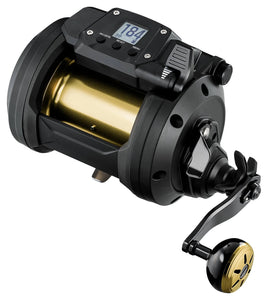 Daiwa Tanacom 800
DESCRIPTION
The Tanacom family has grown even bigger. With the all new Tanacom 1200 it was time to introduce a smaller size. The brand new Tanacom 800 is born with an astounding 660 yards of 80-pound-test Daiwa J-Braid – that's 220 yards more than the Tanacom 750. It also has a 30 percent faster retrieval rate and 20 percent more power with 22lbs of max winding power. Maximum drag pressure has improved, too. Saltwater-sealed, it now stands at a trophy-turning 50 pounds. Kite-fishing fans will also appreciate the over-sized line guide aperture which is big enough to let swivels and large knots pass through, so go ahead and crank that rig right up to your rod tip. Still, the biggest improvement must be the new motor placement and gearing system. Previous Tanacom reels had the motor on the front which was sufficient.
The Tanacom 800, however, has the motor and new gearing hidden inside the spool itself – and that positioning really makes a difference in this reel's outstanding performance. This new engineering design allows the same dependable motor we've had such great success with to generate even more power, speed and efficiency. Combine that with the rigid frame and side-plates, plus repositioned bearings that see less water exposure, and this reel is ready to rock and roll. It's so fast, powerful, smooth, and saltwater tough that I can even see it pulling double-duty with swordfish, especially considering the outstanding line capacity. All the above changes are significant but big game, canyon and offshore fans will also love the Tanacom 800's ease of operation.
To that end, you'll find an easy-to-read LED dot screen and sealed electronics package with selectable languages to prompt you through power assist settings and procedures including automatic stop and jigging features. Using the Tanacom 800, anglers can choose to fight fish with the Power Lever and Aluminum Round Knob or let the 12-volt power variable-speed assist do the heavy hauling. When you're done for the day, simply wash down the reel without worrying about wetting the electronics because they are fully sealed.
FEATURES
ALUMINIUM BODY
Lightweight and incredibly strong, aluminium allows strength and weightlessness to be achieved without the cost and corrosion issues of other metals.
ATD DRAG
Daiwa's Automatic Tournament Drag uses an improved drag grease that exhibits a low viscosity at rest, yet becomes more viscous immediately after drag start up. This reduces initial drag start-up inertia and combined with the structural changes of the ATD Drag System results in a smoother drag from the initial hook up.
METAL BALL KNOB
Providing maximum contact between handle knob and hand, ball knobs are designed for optimal rotation balance, rotation, and functionality.
POWER LEVER
This lever allows you to go from stop to start to full power with the flick of switch. It's like stepping on the gas pedal to accelerate.
SPECIFICATIONS
Bearings
4BB
Gear Ratio
2.1:1
Line Per Handle Turn
23.1"
Weight
67.4 oz
Line Capacity (Lb Test/Yards)

Mono: 30/550, 40/380

J-Braid: 80/660, 100/550

Max Drag
50 Lbs
Retrieve
Right
---
We Also Recommend
---