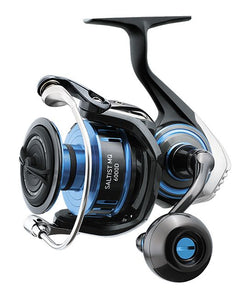 Daiwa Saltist MQ
DESCRIPTION
The Saltist you have come to know and love has been redesigned and upgraded. Still featuring a heavy duty aluminum frame for maximum durability, we have now added our Monocoque Body (MQ) for even more power and a more compact frame. An MQ frame design allows us to fit a larger gear inside of the reel, adding power and longevity to your gear set. A 360 degree screw-in sideplate removes to need for traditional sideplate screws, allowing for a more compact and more weather resistant housing. 
Utilizing a Zaion AIR ROTOR, the rotation is effortless allowing you to cast and retrieve all day with ease. 
Complete with a Magsealed main shaft to maximize protection from the elements, you will be ready to take on the even the toughest of battles. 
Available in a wide range of sizes from a compact 2500 perfect for inshore fishing, up to a heavy duty 20000 to take on the toughest offshore predators. The Saltist MQ is truly a prime example of what a spinning reel should be capable of.
FEATURES
MONOCOQUE (MQ)
MQ Body takes reel design to the next level. The MQ system does not require a body cover, instead using an engine plate to screw directly to the body. Eliminating the need for screws to hold a body cover in place. MQ body improves the strength of the reel, it also improves the water-resistance of the body and allows a larger diameter drive gear to be installed.
AIR BAIL
Daiwa's innovative bail design features a hollow tubular stainless steel bail that delivers maximum rigidity and strength with minimum weight. Featuring a smooth protrusion-free design and construction line easily slides unencumbered along the Air Bail towards the line roller for trouble free line control.
AIR ROTOR
Lighter, stronger and more balanced than any rotor system that's come before, 'Air Rotor' delivers a great leap forward in rotor design and function and delivers the ultimate reel sensitivity and rotational balance.
TOUGH DIGIGEAR
A further evolution of its predecessor Digigear, Tough Digigear is our brand new digitally designed, machine cut gearing system that ensures ultimate gear precision, rotational smoothness, and strength.
SPECIFICATIONS
#SALTISTMQ2500DH
Model: SALTISTMQ2500D-H
#SALTISTMQ4000DXH
Model: SALTISTMQ4000D-XH
#SALTISTMQ6000DH
Model: SALTISTMQ6000D-H
#SALTISTMQ10000H
Model: SALTISTMQ10000H
#SALTISTMQ14000H
Model: SALTISTMQ14000H
#SALTISTMQ20000H
Model: SALTISTMQ20000
#ALL
Bearings
7 (6BB; 1RB)

Gear Ratio

#SALTISTMQ2500DH

5.7:1

#SALTISTMQ4000DXH

6.2:1

#SALTISTMQ6000DH

5.7:1

#SALTISTMQ10000H

5.7:1

#SALTISTMQ14000H

5.7:1

#SALTISTMQ20000

5.3:1

Line Per Handle Turn

#SALTISTMQ2500DH

31.5"

#SALTISTMQ4000DXH

39.1"

#SALTISTMQ6000DH

39.9"

#SALTISTMQ10000H

46.2"

#SALTISTMQ14000H

48.3"

#SALTISTMQ20000

52.9"

Weight

 

#SALTISTMQ2500DH

8.8 oz

#SALTISTMQ4000DXH

10.2 oz

#SALTISTMQ6000DH

15.3 oz

#SALTISTMQ10000H

22.4 oz

#SALTISTMQ14000H

29.5 oz

#SALTISTMQ20000

29.6 oz

Line Capacity

(Lb Test/Yards)

#SALTISTMQ2500DH

Mono: 8/240, 10/210
J-Braid: 10/250, 15/185

#SALTISTMQ4000DXH

Mono: 10/360, 14/250
J-Braid: 20/280, 30/200

#SALTISTMQ6000DH

Mono: 14/340, 20/270
J-Braid: 30/320, 40/240

#SALTISTMQ10000H

Mono: 20/330, 25/280
J-Braid: 50/330, 65/280

#SALTISTMQ14000H

Mono: 25/330, 30/290
J-Braid: 65/330, 80/280

#SALTISTMQ20000

Mono: 40/330, 50/280
J-Braid: 80/440, 100/330

Max Drag

#SALTISTMQ2500DH

22 Lbs

#SALTISTMQ4000DXH

26.4 Lbs

#SALTISTMQ6000DH

26.4 Lbs

#SALTISTMQ10000H

33.1 Lbs

#SALTISTMQ14000H

33.1 Lbs

#SALTISTMQ20000

44.1 Lbs

Retrieve
Reversible 
---
We Also Recommend
---