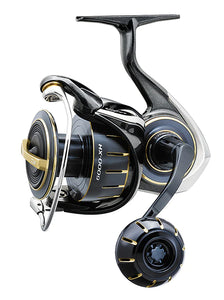 Daiwa Saltiga (4000, 5000, 6000)
DESCRIPTION
DAIWA's innovative mindset and craftsmanship has combined over the last 60 years to create reels you can use with absolute confidence.

The future of saltwater Spinning Reels is now here in the form of the brand new 23 Saltiga.
Available in 4000-6000 to tackle all hard fighting species across inshore and offshore arenas across the globe.
Saltiga Executive 5 Year Warranty & Service (*As designated by Daiwa USA)
Daiwa protects your investment with an exceptional plan for Saltiga reel owners. When purchasing a Saltiga reel you will receive the finest service warranty and experience in the industry. Listed below are the service/warranty incentives exclusive to your Saltiga purchase.
Your Saltiga purchase includes a 5-year Limited Warranty against manufacturing defects and a FREE 5 Year Clean and Service! 
Executive Saltiga 5 Year Limited Warranty against manufacturing defects with proof of purchase.

Reels being repaired will receive expedited service pending parts availability

FREE expedited return shipping (2nd Day Air or Priority Mail)

If the damage is determined to not be warranty eligible (missing parts, accidental damage, misuse, inadequate care, wear and tear) Daiwa will contact you with a price estimate before starting any work.

FREE 5 Year Clean and Service for original owner with proof of purchase

Reels being cleaned and serviced will be shipped back in a special Saltiga signature bag within 1 Business Day upon arrival to Daiwa Service Department

FREE expedited return shipping (2nd Day Air or Priority Mail)

If the damage is determined to be excessive upon inspection, (missing parts, accidental damage, misuse, inadequate care) Daiwa will contact you with a price estimate before starting any work.
FEATURES
MONOCOQUE BODY
Rigid one piece body
With support from a full metal MONOCOQUE (MQ) body concept, 23 SALTIGA 4000/5000/6000 has gained extra strength and retrieve power compared to other models in similar sizes.
By introducing MONOCOQUE (MQ) construction the internal body space has been increased to allow larger drive gear to be installed. MQ construction also allows the engine plate to replace the need for screws to stabilize the drive gear. MQ concept improves support of the internal parts and adds durability and resistance to intrusion.
G1 DURALUMIN DRIVE GEAR
Torque and power.
New gear design combined with G1 Duralumin material creates the pinnacle of gear strength and precision. With increased strength of up to 130% to support the reel under the harshest conditions.
This gear design reduces the amount of wear, including twist and deformation to both the drive & pinion gears. This gear design combined with MQ body creates the pinnacle of saltwater spinning reels.
MAGSEALED
Performance preserved.
MAGSEALED is a technology that implements a special liquid material developed originally for aerospace engineering called MAGOIL. MAGOIL is used to create a water and dust-resistant barrier in lieu of traditional rubber seals.
This is an innovative water resistance method that maintains rotational performance. The ultimate focus of MAGSEAL was to protect the gearing inside the reel body and the bearings. Two of the key components to protect if overall performance is to be preserved.
MAGSEALED BEARING
Friction free rotation.
MAGSEALED bearings have been designed to last longer than traditionally sealed ball bearings. The balls are encapsulated in a completely waterproof housing. The inner and outer rings are magnetised and joined by waterproof and stable MAGSEALED oil.
This means the initial performance of the reel will be indefinitely preserved. The longevity is beyond comparison to a waterproof industrial bearing.
23 SALTIGA 4000/5000/6000 is equipped with MAGSEALED bearings on both sides of the drive gear.
AIRDRIVE ROTOR
Effortless rotation.
AIRDRIVE ROTOR gives control back to the angler, allowing the reel to perform exactly as intended by lowering the inertia required to both start & stop winding rotation. By showcasing an easy winding sensation, AIRDRIVE ROTOR allows the angler to react quickly and instantly to bites, especially on slack line.
By reducing the weight of the rotor and re-shaping the design, the rotation of the reel has been improved. Lower inertia gives better control with reduced effort required by the angler.
AIRDRIVE BAIL
Precise line flow.
To enhance its position for power & strength, 6000 size Saltiga is equipped with Φ3.0mm tubular AIRDRIVE BAIL. To support the reduced weight of the rotor and maintain the sensitivity, 4000 & 5000 Saltiga is equipped with Φ2.4mm bail. Carefully crafted for each size, a reduced wire diameter is realised whilst maintaining the strength anglers are used to with DAIWA's AIR BAIL.
DAIWA has also re-engineered bail trip mechanism with aim to provide a precision open & close movement to give enhanced feeling to angler while in use.
AIRDRIVE SHAFT
Low friction oscillation.
AIRDRIVE SHAFT has a non-contact structure between the mainshaft and the pinion gear.
In addition to this, both ends of pinion gear are now supported with bearings to transmit the crank power from the handle to the rotor with a higher level of efficiency. By adding high quality collars to the mainshaft, rotational noise has been reduced significantly.
AIRDRIVE SHAFT creates the feel of smooth, quiet rotation and provides anglers with enhanced torque and power.
SPECIFICATIONS
#SAG4000XH
Model: SAG4000-XH
Bearings

13 (2MBB; 7CRBB; 3BB; 1RB)

Gear Ratio

6.2:1

Line Per Handle Turn

38.8"

Weight

12.2 oz

Line Capacity

(Lb. Test/Yards)

Mono: 14/250, 20/160

J-Braid: 20/280, 30/200

Max Drag

26.4 Lbs

Retrieve

Reversible
#SAG5000XH
Model: SAG5000-XH
Bearings

13 (2MBB; 7CRBB; 3BB; 1RB)

Gear Ratio

6.2:1

Line Per Handle Turn

41.1"

Weight

12.9 oz

Line Capacity

(Lb. Test/Yards)

Mono: 14/280, 20/180

J-Braid: 50/330. 65/280

Max Drag

33.1 Lbs

Retrieve

Reversible

#SAG6000XH
Model: SAG6000-XH
Bearings

13 (2MBB; 7CRBB; 3BB; 1RB)

Gear Ratio

6.2:1

Line Per Handle Turn

43.4"

Weight

14.1 oz

Line Capacity

(Lb. Test/Yards)

Mono: 14/340, 20/270

J-Braid: 30/320, 40/240

Max Drag

33.1 Lbs

Retrieve

Reversible
---
We Also Recommend
---