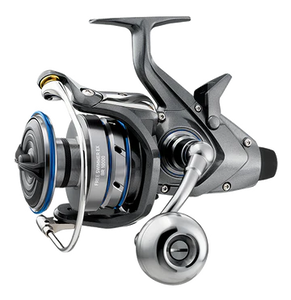 Daiwa Free Swimmer EX
DESCRIPTION
OVERVIEW
Free Swimmer EX features an Automatic Bite N' Run clutch at the base of the body, allowing anglers to instantly disengage the spool so line can peel off with little or no resistance while the bail is closed. Simply pull down on the lever to place the reel in free-spool mode and flip it back instantly to reengage when a fish grabs your bait. A small Tension Control Knob at the back of the reel makes it easy to adjust spool tension to control the speed at which line plays out.
With the Free Swimmer EX, though, it's easy to cast energetic live bait away from the vessel, so it can swim freely where you're most likely to draw a strike. Fishing live-lining Gulf Coast hardtails or sardines, feeding big baits to tarpon in the Florida Keys, targeting huge cobia in the mid-Atlantic region or swimming big bunker in Northeast waters for cow stripers, DAIWA's Free Swimmer EX provides that extra edge. Using the tension control, you can moderate the speed your offerings swim, slowing overly active live bait to keep them centered in the strike zone. The ability to free-line with a closed bail also adds an extra degree of safety since you never have to keep a finger to a braided line to hold your bait in the perfect position. 
FEATURES
ATD DRAG
Daiwa's Automatic Tournament Drag uses an improved drag grease that exhibits a low viscosity at rest, yet becomes more viscous immediately after drag start up. This reduces initial drag start-up inertia and combined with the structural changes of the ATD Drag System results in a smoother drag from the initial hook up.
DIGIGEAR
Daiwa's first generation of digitally engineered gear design ensures a perfect mesh between ultra-tough drive gear and pinion gears for optimized speed, power, durability and smoothness.
METAL BALL KNOB
Providing maximum contact between handle knob and hand, ball knobs are designed for optimal rotation balance, rotation, and functionality.
SPECIFICATIONS
#FRSWEX8000
Model: FRSWEX8000
#FRSWEX10000
Model: FRSWEX10000
#ALL
Bearings
6 (4CRBB; 1BB; 1RB)

Gear Ratio

#FRSWEX8000


4.7:1

#FRSWEX10000

4.7:1

Line Per Handle Turn

#FRSW8000

36.1"

#FRSW10000

39.6"

Weight

#FRSWEX8000

22.9 oz

#FRSWEX10000

23.3 oz

Line Capacity

(Lb Test/Yards)

#FRSW8000

Mono: 16/330, 20/280

J-Braid: 40/330, 50/280

#FRSW10000

Mono: 20/330, 25/280

J-Braid: 50/330, 65/280

Max Drag
22 Lbs
Retrieve
Reversible 
---
We Also Recommend
---