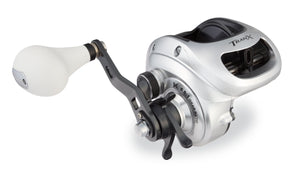 Shimano Tranx 500
DESCRIPTION
The Tranx features a revolutionary design and shape that provides the comfort of low-profile reel with the capacity of a conventional reel. X-Ship and HEG technologies combine to provide massive cranking power with a smooth and effortless retrieve.
FEATURES
X-Ship Baitcasting
X-Ship provides improved gear durability. By supporting the pinion gear on both ends with bearings, the pinion gear maintains precise alignment with the drive gear. This allows the gears to stay in the same position under the heaviest loads. The added benefit of X-Ship technology is that friction between the spool shaft and gear are eliminated. This further benefits anglers with enhanced casting performance and casting distance of lighter lures.
HAGANE Body Baitcasting
The HAGANE Body is a metal reel body with high rigidity. The body rigidity and impact resistance virtually eliminates body flexing on the reel while fighting fish. The result transforms the angler's actions directly into cranking power, increasing efficiency through strength.
VBS Baitcasting
VBS uses centrifugal force, rather than magnets, to aid in controlling the cast. When turned on, the individual brake weights are forced outward at the beginning of the cast — when backlashes most often occur — to create friction that reduces the speed of the spool. Once the spool speed begins to slow, the pressure with which the brake weights contact the raceway lessens and allows the spool to continue spinning. 
Cross Carbon Drag Baitcasting
The Cross Carbon Drag material provides a wider range of drag settings compared to traditional drag materials. The Cross Carbon Drag provides the smoothest Shimano drag performance ever while providing anglers with increased durability. 
S A-RB Baitcasting
S A-RB bearings are put through the same process as Shimano's A-RB bearings but feature shields on both sides of the bearings. These shields reduce the possibility of salt or sand inhibiting rotation of the bearing.
Super Free Spool
Super Free Spool eliminates friction on the spool shaft during the cast. Standard baitcasting reels are constructed in a way that when the clutch bar is pressed down, the pinion gear is freed and can actually drag on the spool shaft. This creates friction that can limit the length of a cast. But baitcasting reels with Super Free Spool are constructed so that the pinion gear is supported by a ball bearing. When the clutch is disengaged in preparation for a cast, the pinion gear and spool shaft are kept in perfect alignment. The result: zero friction is placed upon the spool shaft and enhances casting performance.
SPECIFICATIONS
#TRX500HG
Model: TRX500HG
Bearings

8 (7BB; 1RB)

Gear Ratio

6.6:1

Line Per Handle Turn

43"

Weight

20.0 oz

Line Capacity

Lb Test/Yards

Mono: 30/160, 40/120, 50/100

Power Pro: 50/420, 65/270, 80/210

Max Drag

25 Lbs

Retrieve

Right
---
We Also Recommend
---